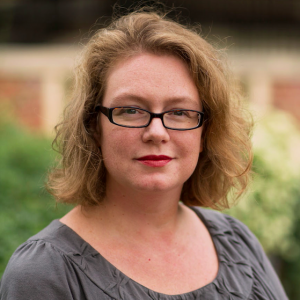 10 Jul

Bethany Nowviskie

Digital Library Federation

Bethany Nowviskie is director of the Digital Library Federation (DLF) at the Council on Library and Information Resources (CLIR). She also serves as research associate professor of Digital Humanities in the Department of English at the University of Virginia (U.Va.).

From 2007-2015, Nowviskie directed the Scholars' Lab and Digital Research & Scholarship Department at the University of Virginia Library. While there, she also served as special advisor to the university's provost for the advancement of digital humanities research, and as chair of the General Faculty Council. Nowviskie's past roles include serving as distinguished presidential fellow at CLIR, president of the Association for Computers and the Humanities, chair of the Modern Language Association's Committee on Information Technology, and associate director of the Scholarly Communication Institute. Her projects include:
Neatline, toolset for geotemporal interpretation of archival collections funded by the National Endowment for Humanities (NEH) and the Library of Congress;
the UVa Praxis Program, international Praxis Network, and #Alt-Academy collection, which address graduate education reform and alternative academic careers;
the open-source library discovery platform, Project Blacklight;
two NEH-funded programs: the Institute for Enabling Geospatial Scholarship and Speaking in Code, a summit on tacit knowledge exchange in software development.
Nowviskie holds a bachelor's degree in English and Archaeology (summa cum laude) from the University of Virginia, a master's in Education from Wake Forest University, and a PhD in English from U.Va., with a dissertation entitled Speculative Computing. The Chronicle of Higher Education pretty much summed her up in a "Ten Tech Innovators" profile: "Bethany Nowviskie likes to build things."