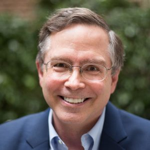 11 Jul

Jim Fruchterman

Benetech

Jim Fruchterman is a social entrepreneur who has adapted the Silicon Valley technology approach to empower communities in need by creating scalable software to support social good solutions for accessible education, global literacy, and human rights. As a Caltech-trained engineer and veteran Silicon Valley tech entrepreneur, he was inspired to found Benetech when his venture capital investors vetoed a socially beneficial product idea.

Under Fruchterman's leadership, Benetech has created and scaled multiple software for social good enterprises and continues to develop and launch new software applications. Benetech's work in global education and literacy has transformed how a half million people with disabilities read and access information, delivered more than 10,000,000 accessible ebooks, and built an online collection of more than 500,000 titles.

Fruchterman is a MacArthur Fellow, a recipient of the Skoll Award for Social Entrepreneurship, the Outstanding Social Entrepreneur Award from the Schwab Foundation for Social Entrepreneurship, and the Migel Medal—the highest honor in the blindness field—from the American Foundation for the Blind. Fruchterman also provides thought leadership on software for social good by frequently working with technologists, for-profit companies, other nonprofits, and policy-makers to explore how software and data can better serve disadvantaged segments of humanity.